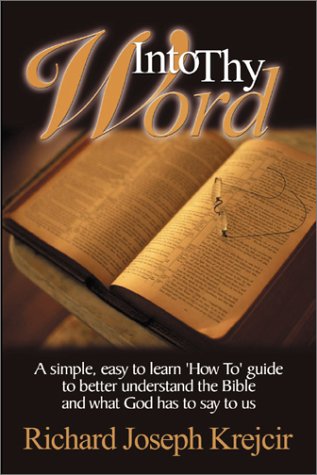 Into Thy Word will help you teach others how to study the Bible in a simple, clear, and concise way. We have included in our Book a 15-week curriculum specifically designed for High School Youth. Teachers find Into Thy Word easy to use. Junior high through adult groups find it extremely beneficial for their growth and discipleship.

As one 15 year old said, "I feel a greater sense of God's presence in my life a warm flame has become ignited that was not there before."

It has all that you need, including the study, openers, questions, illustrations, application and section on growing deeper with Christ. All you do is add people and worship!

Click Here to order from 'amazon.com'

Into Thy Word



Is geared to challenging the new-Christian to learn how to study the Bible, and is also for the Pastor and theologian who need to have their "refresh" button pressed. This book is in fact for anybody desiring to know the Book of ages whether you are new to the Word or are a seasoned teacher. If you do not know where to begin, or you have tried countless times and feel overwhelmed and frustrated, this is the book for you!



You will be able to order it HERE just click on the links below and it will take you to an on-line bookstore of your choice.

· Or from any Christian bookstore through Ingram Book Distributors as a special order, if not in stock. It takes just 1-2 weeks! You can also order 'Into Thy Word' from any Barnes and Noble bookstore.

· Or you can call 1-877-823-9235 Visa/ MC accepted

· Or you can order it from almost any on-line bookstore such as iuniverse.com, bn.com, amazon.com or from many others. Just type in the name of the book Into Thy Word in their search engine.

Click here to go to the main website homepage of 'Into Thy Word Ministries'